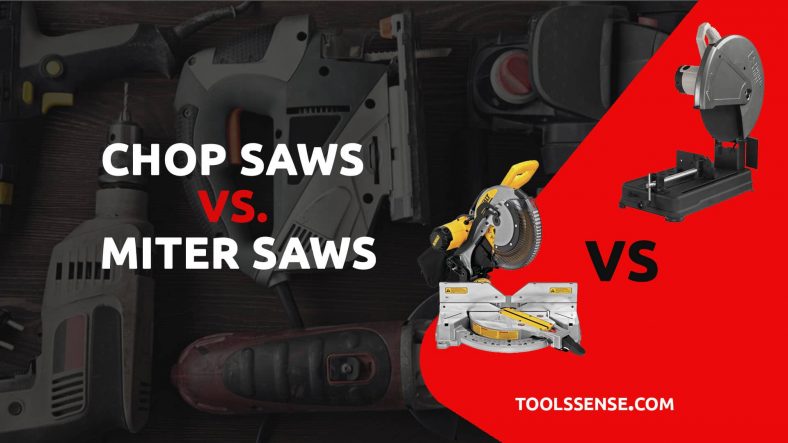 Often people get confused between a chop saw and a miter saw. But what if I tell you there are significant differences between these two power tools?
However, people who are not professional power saw users or beginners in this type of work will surely doubt that. In case you are also one of them, let me help you understand the differences between Chop saws vs. Miter saws.
So, let's find out the differences between chop saws vs. miter saws:
The core difference between the chop saws and miter saws is the ability to cut angle, where chop saws are larger and powerful but can only cut straight 90-degree angles. On the contrary, Miter saws are more versatile and able to rotate and pivot as well. Miter saws allow angular cuts, which means you can get various cutting angles.
Chop saws are designed heavily and are more powerful than Miter saws, but they can only slice the material straight.
However, that is not all; there are other significant differences too, and I will try my best to help you understand each of them in today's article below.
What Is The Difference Between Chop Saw And Miter Saw?
Now that you have already figured out the primary differences between the chop and miter saws, let me explain the other differences between these two here:
| | Chop Saws | Miter Saws |
| --- | --- | --- |
| | Power saws with the abrasive spinning disc mounted on the pivoting arms to cut especially difficult or robust materials on straight, 90-degree angle cuts. | Power saws with vertical spinning blades mounted on pivoting arms, and those blades can swing various angles to cut miters, bevels, cross, or compound cuts. |
| | Use for construction or industrial metalworking and home improvement. Can even cut into lumber with embedded nails. | Use for the crown base moldings, trimming, woodworking, as well as window and door frames. |
| | Great for cutting any ferrous and non-ferrous metals such as masonry, steel, and concrete. | Great for cutting wood, they can also slice plywood, plastic, softer metals(aluminum), and MDF. |
| | The blade range for any Miter saw is 8 inches to max. 12 inches. | The blade range for any Chop saw starts from a minimum of 12 inches. |
| | In case you are into industrial metalworking or home-building projects, a chop saw will serve you better with its larger blade and powerful motor. | If you are looking for a reliable power tool for your woodworking, a miter saw will be better. Along with precise and consistent work, it will also allow compound cuts. |
What Is A Chop Saw Good For?
A chop saw has sheer cutting power and makes sure that you can easily cut through any robust material. Not only that, a chop saw can even cut through lumber with its embedded nails.

Because of its massive cutting capacity, a chop saw works best for home building and framing projects. It also works tremendously well for construction or industrial workers since it is more powerful and can produce the most precise cuts with its toothless cutting disc. You can even buy different blades for your saw and customize it when required.
What Is A Miter Saw Good For?
Miter saws provide fast and accurate cuts. Besides, they are very effective for cross cutting small pieces (trim, baseboard, molding). And you can do angle cuts (around 50°) with a miter saw, which is convenient for most of the wooden work. The only downside of the miter saw is it can only be moved up and down.
In a few words, miter saw is good for:


Compound Miter Saw Vs Chop Saw-Which One Is Better?
When you see a saw leveled as a compound miter saw, that means it has the rotating and pivoting capacity to serve angular cuts. On the other hand, a chop saw is larger and more powerful to slice through any tough metal, but it can only cut into straight 90° angle cuts. 
Therefore, you have to choose based on your need and type of work. For example, if you need a power tool for angular cuts wider than 6 inches, a compound miter saw is an ideal option instead of a chop saw. But when you are dealing with massive construction or home building tasks, you will need a chop saw.
Frequently Asked Questions (FAQs)
Let me answer some common and frequently asked questions here-
Ending Note
Although chop saws and miter saws seem the same, they are different in terms of use. And I hope by now you understand the significant differences between chop saws vs. miter saws and will not get confused between these two again.